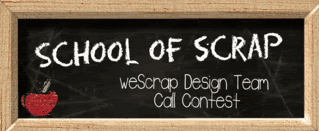 Guest Designer Call for weScrap.com (October)
School of Scrap Contest
Call Closes: Friday September 18th
Come and participate in the School of Scrap Contest for your chance to win a Guest Designer spot on the weScrap iTeam for the month of October.
As part of your Guest Designer position, you will:
- receive the October weScrap kit to play with and showcase with our iTeam
- you will contribute an article for the November newsletter
- you will get to post a monthly challenge in the forums
- you will participate in the daily functions as an iTeam member for the month
- get to have tons of fun!
For all the contest details, see here:
http://www.wescrap.com/forum/showthread.php?p=57470#post57470
Canadian, US and International submissions welcome!
Cheers,